BENEFITS OF BOOKING DIRECT
All direct bookings receive our signature breakfast included as part of your rate

Early check-in/check-out options where available

Fully refundable if you need to cancel due to COVID-19

If you join our wine club during your stay, you will instantly receive our wine club benefits. This includes discounts off our food and beverage offerings, wine sale discounts, free Gibbston Valley tours and much more.

T&Cs Apply
BENEFITS OF BOOKING DIRECT
All direct bookings receive our signature breakfast included as part of your rate

Early check-in/check-out options where available

Fully refundable if you need to cancel due to COVID-19

If you join our wine club during your stay, you will instantly receive our wine club benefits. This includes discounts off our food and beverage offerings, wine sale discounts, free Gibbston Valley tours and much more.

T&Cs Apply
Welcome to Gibbston Valley Lodge & Spa
Luxury Accommodation in Queenstown, NZ
The team at Gibbston Valley Lodge and Spa are dedicated to delivering you an unforgettable experience.
We offer stylish Central Otago accommodation, uniquely situated in our organic and historic Pinot Noir vineyard and winery. With personal service, culinary adventure, and luxurious 'vinotherapy' spa treatments, disconnect from the mundanities of everyday life and connect with this enchanting landscape.
Benefits of Booking Direct
Complimentary Inclusions: All direct bookings receive our signature breakfast included as part of your rate as well as early check-in and late check-out options, where available.
No Hidden Costs: All direct bookings include taxes, no additional charges for credit card transactions.
Villas Among The Vines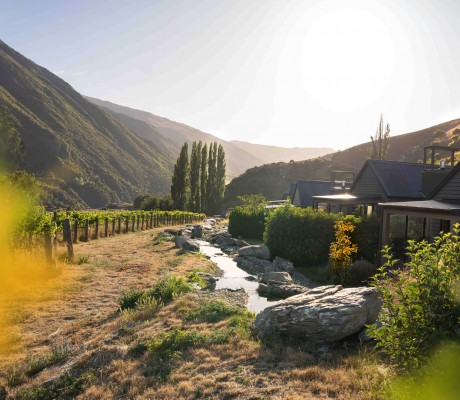 If you are looking for luxury accommodation in Central Otago, you can't go past our spacious vineyard villas. Hide away from the world in your own private villa, with a secluded courtyard overlooking the vines. Our Queenstown villas mix stylish luxury with uncompromising comfort. Personal service and the finest amenities will complete your luxurious stay in a 'home away from home'.